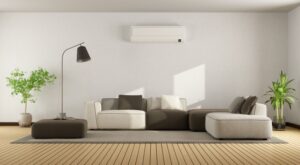 When it comes to air conditioning systems, you have two main options: central or ductless systems. However, since many people are unaware of their choices, they fail to consider which option works best for their unique needs fully. Nevertheless, each of these systems has differences that make them useful in different environments.
Either way, central AC systems are traditional systems that many choose because of familiarity. With that in mind, the following is a closer look at ductless systems and how they measure up to central AC systems.
Benefits of Ductless Systems
If you are wondering about the benefits of using ductless systems, there are several. Some of which are:
Eliminate Duct-Related Issues: One of the top benefits of ductless systems is eliminating duct-related issues. Ductwork is a significant part of any given home, and they are essential to functional central AC systems. However, when you choose a ductless system, you will not have to be concerned with the functionality of your ductwork or your indoor air quality.
Zone Control: Another significant benefit of ductless is that it allows you to set specific temperatures in various areas around your home. This means you will be able to keep certain areas cooler than others. This is highly convenient for those living with children, the elderly, or in homes with lots of rooms.
Flexibility: Lastly, flexibility is a significant benefit of owning a ductless system. Ductless systems are incredibly flexible because they allow people to adjust the various rooms in your home to ensure that they are as warm or as relaxed as you need them to be. Unlike traditional systems, which essentially provide the same level of cooling to each room, ductless systems give you options. Rather than worrying about having overly cool or warm rooms, you can pick and choose which rooms you choose to cool and how cool you want them to be.
The General Efficiency of Ductless Units
Generally speaking, ductless systems are more efficient than traditional air conditioners. This is because they allow the owners to maintain control rather than allowing the system to dictate how they cool your home. So, although you might spend a tad more money on up-front costs, you will save money on your bill over time. In addition, ductless systems allow people to have more control over how and when they cool their homes. This will enable you to save time and money while also making your home as cool as you please.
Are You Interested in a Ductless Air Conditioner?
Overall, if you are interested in purchasing a ductless air conditioner, you have lots of options. However, you should make sure that you are working with an experienced contractor, such as AW Heating & Cooling, who will use high-quality products and go above and beyond to ensure that your needs are met. Rather than attempting to go the DIY route or relying on subpar companies, working with a team of professionals can ensure that your ductless air conditioner is optimally functional.
Please contact "Your Comfort Specialists" at AW Heating & Cooling for professional AC services in Maumee, OH.