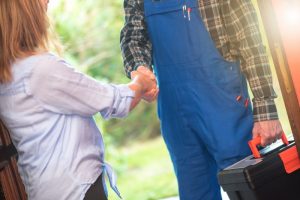 When it comes to making sure that your home is in good shape, you only want the best professionals serving it, right? They should be reputable, have integrity, and know how to get the job done right the first time. When it comes to an HVAC contractor, it's no exception!
However, just because an HVAC contractor is popular, or even affordable, doesn't necessarily mean they're the perfect fit for your needs. It's vital that you do your homework, and choose a professional you can trust. But when it comes to selecting the right technicians for something like AC repair, what qualities should you look for? Read on to find out.
Licensing and Insurance
It's perfectly reasonable to ask any HVAC technician you're considering for their credentials. Don't just assume that because they're in a uniform and drive a commercial vehicle, that they have everything they need to effectively repair your air conditioner.
You might even consider double checking with your local licensing office to confirm that the company you've chosen has a current license, and get verification that their insurance policies are up to date by contacting their insurance company to see what's covered.
Of course, all reputable contractors will do what they can to reduce liability and avoid accidents, but the fact is that they do occur. And what you want to make sure of is that you won't be held financially responsible if an HVAC technician is injured on your property, or makes and expensive mistake.
Level of Training
Be sure to ask your potential HVAC professional about the level of training they've received from their company. Most contracting companies do require at the very least a basic technical degree from a vocational school for all of their employees. These programs hone in on the latest advancements in HVAC technology, EPA regulations, and typical repair and maintenance services.
It's also a good idea to ask about their familiarity with your particular HVAC systems. If you are planning on upgrading your HVAC system, you'll want to ensure that your technicians are qualified to service that brand.
Estimate Availability
Is your HVAC professional willing to provide an estimate of what their work will cost, before starting the job? A true professional will always be able to provide you with at least a general guess on what your repairs will cost, as they've had experience doing it many times before. This way, you have an idea of what to expect, and there won't be any surprises later on down the road. Remember though, it's not enough to just have a verbal agreement—get your estimate in writing!
One more related factor to keep in mind is that it isn't unusual for HVAC contractors to require a deposit on large-scale projects. This is mostly applicable to commercial situations, but depending on the size of your residence and the caliber of your repair needs, this may be the case. What shouldn't happen though, is your HVAC professional asking you to pay for the whole entire job upfront, especially without a contract in place. This goes for repairs and installation.
For professional air conditioning repair in Perrysburg, OH, contact AW Heating & Cooling today—your comfort specialists!