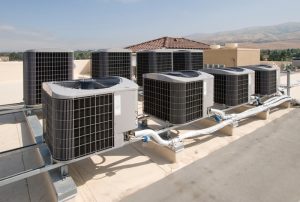 The most popular type of HVAC solution for businesses and commercial spaces today is the rooftop unit. You're very likely already familiar with these, even if you aren't utilizing them for your business yet–you'll see them on top of most industrial spaces.
Rooftop units are common for a reason! Many reasons actually. If you're in the decision-making process regarding whether it's right for your business or not, take a look at the following benefits of such a setup.
They Save Space
HVAC systems in the early days were often added onto structures in the middle of crowded business areas in big cities. Therefore, the only place to put them was on the roof since there was no space around the structure for the large units needed to adequately cool the space.
This is good news even now. No business owner or commercial property manager wants to give up valuable real estate around or in their business property for bulky AC units.
They Save Energy
Modern rooftop HVAC units are highly efficient, with high SEER (Seasonal Energy Efficiency Ratio) ratings and plenty of ventilation options for business owners. Due to their efficient operation, they cost you less to run, resulting in lowered overhead costs for your business.
Easy to Access
We don't mean easy for you to access, but rather, easy for our technicians to access. Our technicians will not have to disrupt your space to install a new unit or make repairs on your existing air conditioning system.
Unlike common split-system AC units and heat pumps, which would have components both inside and outside your property, all the components of a rooftop HVAC system are in the rooftop cabinet. Technicians can manage repairs, maintenance, and installation all from one area.
Quiet Operation
With a rooftop unit, you wouldn't hear the noise of the air conditioner or heater inside the commercial space. You should only hear the whooshing of air through your vents and maybe shifting ductwork with the fluctuating temperatures if you have exposed air ducts.
But rooftop units house all the other noisy components up on the roof–the compressor and fans, namely, would be the noisiest parts.
They Are Modular
If you look at the roof of a typical commercial or industrial building, you'll see multiple modular packaged HVAC units up top. This is because these systems are designed to be modular, so you can grow your business and grow the HVAC systems along with it. This wasn't possible using conventional split-system air conditioners that had an indoor component.
Only Trust a Pro!
Why should you only trust a commercial professional for your industrial HVAC or commercial HVAC installation?
Well, the average business handyman or even a residential HVAC professional isn't going to have the knowledge or expertise to handle everything that's involved with commercial services. Industrial needs are complex, and you need a team ready to manage those complexities.
To learn more about rooftop units or to schedule your industrial HVAC services, look no further than your comfort specialists here at AW Heating & Cooling. Contact us today!