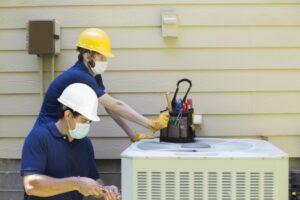 If you've ever asked an HVAC professional when the best time to schedule air conditioner maintenance is, they probably told you "in the early spring, before you need your air conditioner the most." This is a good recommendation! Of course, you still might be wondering if you really need maintenance. After all, why pay for an air conditioner service when your air conditioner is operating "just fine"?
Well, because sometimes "just fine" isn't good enough! What if your cooling system isn't operating as efficiently as it could? This means you're paying too much to use it, and also that it's probably accumulating wear and tear a lot faster than it should otherwise. Maintenance is a preventative measure, not a repair. With maintenance, you can reduce repairs, increase your system's lifespan, and improve your household's home comfort. Read on to learn more!
What Maintenance Is All About
Not a lot of homeowners know all that much about maintenance. That's okay, that's what we are here for! Maintenance tune-ups are a service that allows our technicians to comprehensively inspect, clean, and adjust components that need it in your HVAC system. This helps the system perform as it should, and do so in a cost-efficient way.
In addition, we thoroughly inspect to look for any repair needs your system might have. Alerting you to these repair needs now, means you can get them on your schedule right away and you won't have to risk having an emergency air conditioner breakdown right in the middle of summer when you need your system the most.
"So, Now Is the Right Time to Schedule Maintenance?"
Generally speaking, yes, now is the right time to schedule air conditioning maintenance. It's the time of year right before you need the system the most. Of course, we're still dealing with chillier temperatures, so this might seem pointless to you at the moment.
But what matters more about what time of year you have this service done is how often you have it done. Air conditioning maintenance should be scheduled once a year. This consistency ensures that your air conditioner operates as it should, for as long as it should.
If you're using a heat pump system to both cool and heat your home, then you should have maintenance done twice a year, since this system goes through twice the work.
Improve Home Safety and Comfort
One of the main reasons we suggest that you stay on top of your annual air conditioning maintenance sessions is for the comfort of your entire household. Over time, air conditioners start operating less efficiently and effectively. Components begin wearing down due to natural wear and tear, just like what would happen if you skipped vehicle maintenance for your care.
Maintenance can also help keep your family safe. AC systems, of course, are not inherently dangerous. However, they do have components that can become hazardous, especially if you try to repair or maintain the system yourself, or skip maintenance altogether. Take refrigerant, for example. This is a chemical that makes it possible for your cooling system to actually cool. But it's not a substance you want to come into contact with. Maintenance helps prevent this!
Contact "Your Comfort Specialists" at AW Heating & Cooling for quality HVAC system maintenance in Perrysburg, OH.