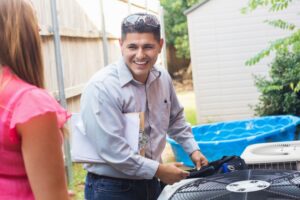 When you live in a temperamental climate such as ours, it can go without saying that effective and efficient HVAC systems are vital to your family's comfort and health. You need these systems to work flawlessly, day after day, season after season.
If you truly want reliable air conditioning or heating though, it's essential that you invest in professional HVAC services with a contractor you can rely on. This isn't the kind of business deal you want to rush into, since doing so can leave you with an AC system or furnace that's not properly sized for your home, or one that is installed incorrectly.
Whether you're in need of HVAC installation, maintenance, or repairs, you can rely on our team! But how do you know that for sure? What are the qualities of a good HVAC company?
It's Time to Do Your Research
Choosing an HVAC contracting company should never be a hurried decision. This is true even if it's in the middle of summer and you're without an air conditioner, or it's the coldest day of the year and you need furnace repairs fast. We totally understand the temptation of a "quick fix," particularly an affordable one, but we really have to urge you to take your time and consider the following factors:
What is Cheap Now Could Be Expensive Later On
This is particularly true for home repairs, and your HVAC equipment is no exception. Quality matters, when it comes down to it. The HVAC contractor you hire should be proud to provide the top brands in cooling and heating products and high-quality service to boot. Yeah, you might want to go with cheaper products and a "more affordable now" repair service, but this can cost you more later.
For example, poorly manufactured or improperly installed HVAC equipment simply won't hold up over time. They typically require frequent and costly repairs that you wouldn't have had to deal with if you just trusted the pros from the begging. An experienced and knowledgeable HVAC professional will recommend the best products for you, because they know in the long run that will help you save money.
You Should Choose a Contractor Who Focuses on the Customer
There are plenty of service companies out there who can come into your home and superficially repair whatever your HVAC problem is, call it a day, and then leave. When it comes to your HVAC systems, you need a contractor who will stand by the services and products they offer, and will ensure your satisfaction, because your comfort and your time matters.
A good way to tell if you're getting a customer-focused contractor is to check out their reviews. What have past customers said about their experience? Are they coming back for future services—signing up for their maintenance agreement? Sometimes the best way to tell what you can expect from a home services company is to see how other people perceive them.
Get in touch with a reliable HVAC company in Holland, OH by contacting AW Heating & Cooling today!