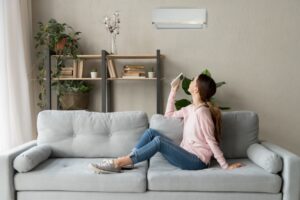 When you see the term ductless cooling, it's likely to conjure up images of a window air conditioning unit, or a portable air conditioner that otherwise does not have to utilize any type of ductwork.
This isn't what a true ductless HVAC system is, though! In fact, ductless HVAC systems, professionally installed by the team here at AW Heating & Cooling, is so much better and more efficient than these systems. Read on to learn more!
What Is the Ductless System?
A ductless cooling system, also referred to as simply a ductless HVAC system or a ductless mini-split is a type of heat pump. Standard heat pump systems work as both cooling and heating systems, and can be changed with a simple flip of a switch. We'll talk more about that heating capability in a minute–for the moment, think of a ductless system as a type of air conditioner.
Just like with a standard central AC unit, a ductless mini-split utilizes both indoor and outdoor units. The outdoor unit is a single cabinet, that houses the erefrigerant coils, a fan, and the compressor. But while a standard central air conditioner has one indoor unit connected to a series of ductwork and vents, a ductless system has multiple indoor air handlers–in fact it has 4 for every single outdoor unit.
The individualised air handlers of a ductless system each contain their own refrigerant lines, their own fans, and even their own thermostats. The refrigerant, condensate, and power lines are routed into each air handler through a small hole drilled into the drywall behind it. And each air handler sends cooled air directly into the room where it is located, leaving no need for ductwork to transport cooled air around the entire living space.
The Benefits of This Setup
What is So great about a ductless mini split? Well, there are a few great benefits, actually! Ductless systems are:
Adaptable: For homes that don't or can't utilize ductwork already, like older homes built before air conditioning was so widespread, trying to install a standard central air conditioner can be quite difficult and expensive. In many cases, it's so disruptive to the home, homeowners choose to go without, which leaves them with inefficient cooling options, until the ductless system!
With a ductless air conditioner, it's easy to convert a home to centralized cooling, because no ductwork has to be added. The installation requires putting in a small outdoor unit and connecting it to up to 4 indoor air handlers that can be wall-mounted.
Energy-Saving: Ductwork allows heat gain–which isn't a great thing. Heat gan lowers a central air conditioner's efficiency. Ductless systems have higher efficiency because they don't have ductwork that can pick up that heat gain. Ductless systems also house smaller motors that consume less power.
Zone Control Cooling and Heating: Remember how we said each air handler could have its own thermostat? This allows different members of your household to cool or heat their individual bedrooms or area of the home to their preference. You don't have to cool down the entire home just to cool down one room or vice versa.
AW Heating & Cooling is your trusted resource for HVAC installation in Toledo, OH. Contact us today!