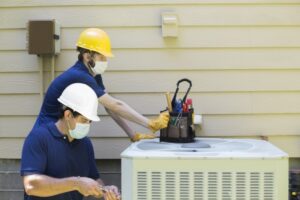 The only situation in which it can be considered "too late" for an AC tune-up, or what we call air conditioning maintenance, is if your air conditioner has completely broken down and no repair can get it back up and running.
However, this is not likely, unless your air conditioner is 10-15+ years old. Read on to learn why it's never too late to get air conditioning maintenance done, and why it's so important.
The "Ideal Time" for AC Maintenance
As we just alluded to, the best time for air conditioning maintenance is right before you need your air conditioning system the most–on a daily and hourly basis. So, this means in the springtime.
However, like we also said above, unless your air conditioner has completely broken down, it's never too late to have this service done. Any system that receives routine (annual) maintenance is going to be in a lot better shape than an air conditioner that goes without maintenance.
For instance, routine maintenance reduces repair needs by as much as 85%, helps your system retain as much as 95% of its original efficiency rating, and also helps your system last longer. A well-maintained system should have a useful service life of 10-15 years, if not even more than that.
Why You Need This Service
We get it–you may be one of those homeowners who are a bit skeptical about the benefits of any AC service that isn't repair service. Unfortunately, there are people out there who call themselves "professional" but may actually be dishonest about what you need.
We are not those professionals.
Maintenance is a service that every HVAC contractor will tell you that you need on an annual basis (at least) and it's for good reason.
Most air conditioning repair needs are not obvious right away, when they first develop. They tend to spend time getting progressively worse while you continue to operate the system, unless you have a professional come right away. But sometimes, you don't even know that you need to call in a pro until a repair has grown into an emergency, and an expensive one at that.
This is what professional maintenance aims to prevent! We want to help you avoid a headache like this by allowing our technicians to comprehensively clean, inspect, and adjust the components that need it, to help your air conditioner work as efficiently and effectively as possible, for as long as possible.
AW Heating & Cooling is your trusted resource for quality AC maintenance in Toledo, OH, no matter the time of year.
Contact us today!