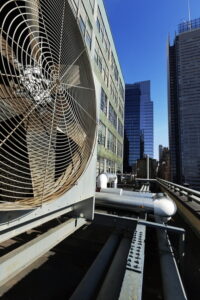 There are two ways to approach this question, based on what "installation" means: the actual physical installation of an HVAC system or the installation process that starts earlier. If we told you that an HVAC installation requires several days or a week, that wouldn't give you an accurate picture because we're only referring to the physical installation work. The full answer is more complex and has numerous variables. 
Here's a sense of the timeline you can anticipate for a commercial HVAC installation in Sylvania, OH when you work with us. You can always get a more concrete timeline when you start the consultation phase. 
Step 1: Initial Consultation and Assessment
HVAC technicians come out to your building or facility to consult with you about your needs, look over the site, and examine your current HVAC system if this is a replacement. This is when we do the job of sizing the new equipment: determining how powerful it must be, how many you need, etc. This may only take a day but could extend to several depending on the size of the project.
Step 2: Design and Engineering
The new system has to go through a design and engineering phase. The simpler the system, the less time it will take. A light commercial (under 25 tons) HVAC system may only need a few days of design and engineering. Heavier and more extensive systems might require several weeks.
Step 3: Permitting and Approvals
Yeah, paperwork. You can't escape it! Commercial HVAC equipment requires permission from the local jurisdiction. How long this takes depends on the speed of the local authorities as well as the number of permits required. The average time ranges from several days to several weeks.
Step 4: Equipment Ordering and Delivery
Unfortunately, this is the step that is the hardest for us to currently quantify because of the unpredictability of the supply chain. If all goes well, the delivery time may take only a few days. On the other hand, it could take months, and in such cases, we may have to go back to the design and engineering phase. We'll take into account possible delays during that stage.
Step 5: The Actual Installation
This step has its own set of stages, starting with the removal of any older HVAC equipment. Next, our technicians must make adjustments to ductwork, piping, and the electrical system to accommodate the new equipment.
After this, the new HVAC unit is put into place (which often requires using a crane) and connected to the other components. After testing and commissioning, the installation is complete. Phew! Wipe off your brow, you made it.
Altogether, we recommend you anticipate a two- to four-week period for an HVAC installation—but be prepared for it to go longer. 
Keep in mind that the best way to ensure a smooth and speedy installation is to work with experienced and trustworthy commercial HVAC contractors. And you've already found us: we've served the area since 1997 and understand the needs of local businesses. We'll do our best to ensure you have an expedited HVAC installation.
AW Heating & Cooling is your comfort specialist in the Maumee, OH area. Schedule commercial HVAC installation with us today.