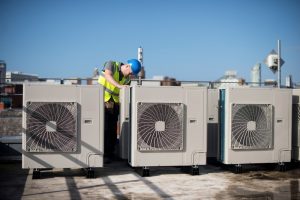 There are likely a number of individuals out there who would be willing to do work on your commercial HVAC system, whether it's your heating system, air conditioner, or indoor air quality setup. However, do they have any experience doing a job of this caliber? Sure, a general handyman hired by your commercial building's manager may be able to tighten a loose component or fix a small plumbing leak from a drippy faucet, but they simply do not have the training and expertise that professionally trained commercial HVAC professionals do.
Fortunately, there are plenty of qualified commercial and industrial HVAC technicians, right here with our company! Our techs are great at what they do, and have the property training and skills to back that up—this just isn't something you can expect from a general handyman or even a residential HVAC technician who has never worked with a commercial system before.
Read on as we uncover the traits present in a professional commercial HVAC technician from our team, and what you should look for before hiring someone for your commercial HVAC installation!
Experience with Commercial Spaces
This is probably the most important trait of a commercial HVAC installer! As we alluded to above, there are plenty of HVAC pros out there, and most of them have residential experience. However, to handle the complex needs of a commercial or industrial space, you really do need a professional with expertise in commercial HVAC services.
The reason for this is because a residential space doesn't have nearly the demand for indoor air quality and comfort that a commercial space does—in a residence, it's just you and your family whose comfort there is to worry about, while if you own or run a commercial space you have employees, tenants, customers, and/or visitors to care for.
If something goes awry with your commercial system, you could be facing a significant business interruption. But when trust an experienced team for the installation and follow up services, there's a less likely chance that anything will go awry!
Comprehensive HVAC Services
It's absolutely vital when we're talking about your business that you work with an HVAC contractor who offers every service you might need over the years. Sure, right now you might just be looking for a commercial professional to install a new HVAC system. But in the near future, you'll need to schedule maintenance for that system, occasional repairs, and you'll need someone to guide you when it comes time to replace the system, as well.
If you choose to go with a company that only does installations, then you'll be starting the process of finding a reputable commercial HVAC specialist all over again when you need any follow-up services. It's far better to find a trusted contractor now, who can handle it all. This way, you can give them a call for whatever your commercial and industrial HVAC needs may be.
You can turn to AW Heating & Cooling for expert industrial HVAC installations and much more. Contact us today!