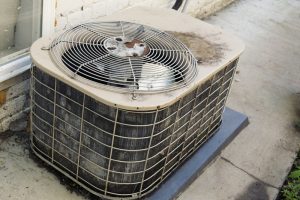 How old is your air conditioner? How efficiently has it worked so far this summer? These are just a couple of the questions you should ask yourself before summer ends. Now is the time of year that older air conditioners are most likely to break down, since they've gone through so much work over the past several months.
Of course, if you keep up with your annual AC maintenance appointments, this is less likely to happen. But regardless of whether you had that tune-up or not, no air conditioner can last forever. And even if your aging AC system makes it to the end of summer, can you be confident it'll be ready to work effectively and efficiently next summer? It's best to consider replacement now, especially if the following 3 facts are true for your cooling system.
1) Your System Is, In Fact, Old
Let's assume you schedule maintenance diligently–every year, around the same time of the year, our professionals come out and thoroughly clean, inspect, and adjust the components that need it.
This is great! Still, though, no air conditioner lasts forever. Even with maintenance, the best air conditioners on the market last around 15 years, if not a little longer. Beyond this point, they simply cannot work as efficiently as they once did, and start costing more and more to run each month–plus they accumulate repair needs exponentially faster.
2) Repair Needs Are Frequent
Speaking of repairs, how often do you find yourself calling for them? Needing a couple of repairs throughout the years is normal. Natural wear and tear means that components will need replacing, lubricating, and adjusting. So a repair every couple of years or so is to be expected.
What you should never settle for is repair needs a few times a year! This is definitely a sign that your air conditioner can no longer keep up with the demands that our climate puts on it. A good rule of thumb to go by here is that if your next repair, or set of repairs, is going to cost over half of what the system is worth, it's time to upgrade!
3) You're Paying More Than You Should for AC Use
We understand this one can be kind of subjective. Who doesn't think their AC use is expensive? After all, HVAC systems account for half of all electricity use, so naturally, utility bills are going to rise over the summer months.
What shouldn't happen, however, is that they soar past what you were paying last year, or what your neighbors are paying. If you compare costs to find a significant difference, it's a sign that something is causing your system to perform less efficiently than it used to.
This alone doesn't necessarily mean you need to replace your air conditioner. But if it's coupled with old age and/or frequent repair needs, it's probably time.
For quality air conditioning products and professional AC repair in Toledo, OH, look no further than AW Heating & Cooling! Contact "Your Comfort Specialists" today.