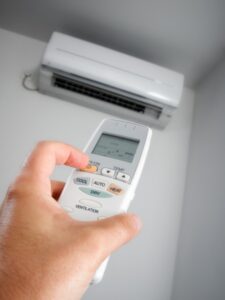 Did you know that professional, routine HVAC maintenance is the best way to prevent the need for heating or air conditioning repair in Toledo, OH? In fact, professional maintenance can help you avoid up to 85% of the repair needs your system might ever need.
This is because, during maintenance, our technicians do a thorough inspection of your system. This allows us to catch small wear and tear issues and either make adjustments or alert you to the problem so you can schedule a follow-up service right away–which means that those small issues won't have the opportunity to snowball into bigger, more expensive repair needs.
If you have a ductless heat pump system, you might think that since you had maintenance done last spring, you don't need to have it done again this fall. But actually, because your ductless system serves as both an air conditioner and a heater, and both of these systems require annual maintenance, you should go ahead and schedule a tune-up now. Read on to learn why this is so important!
Prevent Air Handler Problems
Ductless systems are pretty unique. As you know, they don't require the use of ductwork. Instead, they use individual, and independent, air handlers that are often mounted up high on the wall in the rooms where they are needed. Behind these air handlers is a conduit that goes through a hole that your installer drilled through your drywall.
Inside the conduit is the power cord, refrigerant line, and condensate line.
This isn't so much a problem when your ductless system is professionally installed–though can still happen due to old age and wear and tear–but there's a possibility that either a water leak or a refrigerant leak can happen behind an air handler.
And when there is a leak between the air handler and your wall, the material of that wall starts weakening, which can cause the air handler to rip from the wall and likely fall. This not only can create property damage but will definitely damage the air handler as well.
As we said above, when professionally installed, this is not likely to occur. However, biannual maintenance will ensure that it gets checked by a professional to ensure there are no problems.
The good news is, with a ductless system, is that if one air handler is broken, you can still get reliable cooling or heating from the other air handlers in your home while that one gets fixed!
Find Wear and Tear Before It Grows Into Something Bigger
One of the most common types of wear on an HVAC system is either the motor bearings losing lubrication or the capacitors failing. Neither of these are a big deal, but finding them before they cause your motor to overheat or your ductless system to stop working altogether is essential.
Because your ductless system gets twice the work as a conventional air conditioner or heater, it means it goes through twice as much wear and tear. This is why professional maintenance is so vital!
When you need professional and reliable HVAC service in Toledo or one of our surrounding service areas, don't hesitate to contact "Your Comfort Specialists" here at AW Heating & Cooling!