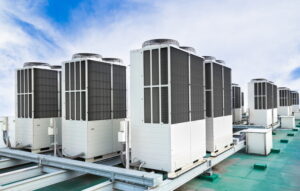 The short answer to this is, "yes!" or rather, "yes of course!" But don't worry, we're going to elaborate.
Prepping for the warmer months that summer brings is not exclusive to homeowners. Business owners have to think of this too. Caring for your commercial air conditioner (and heater, in the winter) is essential to caring for the occupants of your commercial space, whether it's employees, tenants, guests, or clients. The last thing you need this summer or any summer is a severe business interruption because your commercial HVAC system suddenly broke down when it could have been prevented.
Maintenance is essential to comfort, but it's also important for protecting your HVAC equipment and sensitive equipment from overheating. As a homeowner, you only need to worry about a handful of people in your home, if that. A breakdown may only be a minor inconvenience and it's easy to get our residential HVAC repair professionals out for a quick fix.
But when you own or run a commercial setting, it's a different story. Read on to learn more about the importance of commercial HVAC maintenance.
When Did You Last Have Commercial HVAC Maintenance Done?
As business owners ourselves, we get the responsibility you have in owning a business or managing a commercial property. We do it as well! Understandably, you have many things to deal with day in and day out. So, it can be easy to dismiss the need for scheduling preventive HVAC maintenance, or easy to forget about it altogether. Fortunately, when you sign up for maintenance with our team we'll remind you!
Air conditioner maintenance comes with a wide range of benefits, and these are especially important for commercial spaces. Here's some of what happens during a commercial air conditioner tune-up:
We check and change the air filters. Now, these air filters should actually be changed every 1-3 months, depending on the type of air filters you have. It's best to call in a maintenance person or if your business has a dedicated person who handles office tasks, they may be able to do it as well. The air filters keep the system protected from dust, dirt, and other debris, plus, though not designed for this specific purpose, these air filters do improve air quality a bit.
We lubricate all moving parts. Lubrication wears down over time as a natural part of wear and tear.
We tighten all electrical connections and make sure there is no frayed wiring.
We check on refrigerant levels. If the refrigerant charge (level) has dropped, it means that there is a leak that has to be located and repaired.
We clean the outdoor and indoor coils to make sure your commercial air conditioner is working as efficiently and cost-effectively as possible.
We test the performance of the system and calibrate the thermostat to ensure that the temperature settings are precise.
We thoroughly check around the outdoor and/or rooftop units of your commercial air conditioner to make sure there aren't any obstructions that can reduce airflow and negatively impact system performance.
This is just a brief overview of the tasks that we manage during your commercial HVAC maintenance appointment. Please don't hesitate to reach out to our team with any questions you might have.
For professional commercial HVAC services in Toledo, OH, contact AW Heating & Cooling.