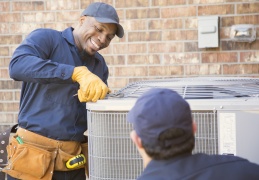 The air conditioner is arguably the most important investment for your home. If you live in Ohio, you know that is an understatement, especially during the peak of summer. Having a properly working air conditioner is a necessity as the temperatures reach boiling hot temperatures.
Unfortunately, like all appliances, air conditioners have a limited lifespan. Even though the air conditioning in Maumee, OH, is designed to last a long time, it cannot keep your home cool forever. There will come a point when you have to replace your current unit with another one. Considering how much a unit can cost, you might not feel too inclined to be quick to spend money on one. It is a decision you have to make only when it is necessary.
If you have been on the fence about whether you should invest in a replacement for your current AC, you are not alone. We will tell you about the most important signs that indicate that it is time to replace your air conditioner with a newer model.
3 Signs It's Time for an AC Replacement
Modern air conditioners are built to last 10-15 years, but the lifespan can vary depending on how much you take care of them and use them. If your air conditioner is on the older side of the spectrum, the time to replace it might be close, but your unit's age is not the only factor you should consider.
Here are the signs you should look for to be sure whether it is time to replace your air conditioner with a new model.
1. The AC requires frequent and expensive repairs
All air conditioning systems require regular maintenance work throughout their lifespan to ensure that they can keep functioning normally. You will occasionally need to call a professional for repairs when there are major faults in the unit. If you find yourself paying for expensive repairs quite often, it is a sign that your air conditioner is not just old. It is time to replace it. The cost for expensive repairs can add up over the years, and you could end up paying half the price of a new system in repairs for your current AC.
2. The energy bills are too high
It is always a good idea to keep a close eye on your energy bills. As the air conditioner gets older, it deteriorates and becomes less efficient. However, regular maintenance should keep the energy bills in check. Compare your next energy bill with the bill for the same month last year. If you have not been using your AC more this year than the last, but there's a higher bill, it could be time to consider investing in a replacement.
3. Your air conditioner does not cool your house anymore
When the time comes for your air conditioner to bite the dust, it will only waste energy without providing you with the cooling as it should. If your air conditioner is unable to maintain ideal indoor temperatures despite spending considerable money on repairs, it is a sign that you need to let go of it and get a replacement that can do a good job for years to come.
Contact "Your Comfort Specialists" at AW Heating & Cooling today for quality air conditioning services and more!