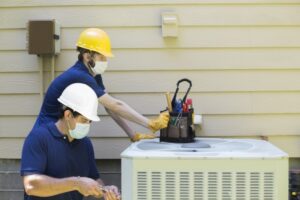 Although some people choose to go the DIY route, air conditioner installation is most often better left to the professionals. This is primarily because the installation is more complex than it seems, and improper installation could cause damage to the unit.
Nevertheless, since it is relatively common for people to attempt to install AC units on their own, it is wise to take the time to understand the benefits of professional AC installation. With that in mind, here is an overview of three of the top benefits of having your AC installed professionally. 
Expert Removal
One of the top benefits of having your air conditioner professionally installed is that the technician can also remove your old unit. Although it may seem like no big deal, improper removal of an AC unit can cause damage to your home and property.
However, when you are working with a professional, they can quickly and easily remove your old unit without causing any damage to your things. 
Testing
Moreover, those with expert-level experience can also test your unit before leaving. Air conditioners are complex pieces of machinery, and if the installation is not handled just right, it can cause damage to your home as well as your air conditioner.
Luckily, by working with a professional air conditioning company, you can have your system checked before they leave. This allows them to uncover any issues and fix them to ensure your AC unit is optimally functional. 
Sizing
Working with a reputable air conditioning professional company can ensure that you have an AC unit that is the proper size for your home. Without experience, it is highly common to choose an AC unit that is either too large or small for your home.
On the one hand, an air conditioner that is too large will cost you more money to use and may even result in frequent power outages. On the other hand, choosing an AC unit that is too small will cause insufficient cooling of your home. Hiring a professional can help eliminate such issues. 
Ductwork and Electrical Connections
Lastly, an expert installer will know the best way to incorporate your ventilation system. Oftentimes, you may need to adjust your ductwork to better accommodate your AC unit. This is obviously a task best left to the professionals.
Moreover, you may also need to reconfigure various connections for the same reason. In these cases, it is highly advised to hire a professional to prevent causing damage to your home. 
Need an Air Conditioner Installed?
Overall, if you are searching for a professional to install your air conditioning unit, make sure you choose a company that is experienced. AC installation can be a highly complex process, and when handled improperly, it can result in damage to both your home and unit.
Luckily, by hiring a reputable company, you can rest assured that your installation will be handled properly by seasoned experts. 
For professional air conditioning service in Maumee, OH, contact AW Heating & Cooling today!