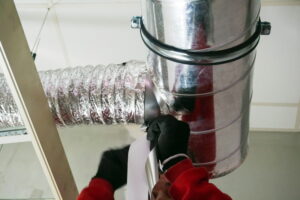 The ductwork throughout your home is one of the hidden systems within it that you don't really see or notice until there is a problem.
Most of the time, the ducts don't need a lot of repair work, but over time, as the home ages, it may become necessary. New ductwork installation in Perrysburg, OH, may be a necessary step in some situations.
Signs Your HVAC Ductwork Needs Replaced
Most of the time, HVAC ductwork can be repaired, but there are some instances in which replacement is the best route to take. Pay close attention to how your home's HVAC works. When you do, you may notice a few signs that your ductwork may need repaired or replaced.
Ducts not in place. It is possible for the ducts to become disjointed or to develop holes in them. This could be from physical damage to the structure, pests, or poor conditions. This can lead to leaks and even ducts that don't remain in place properly.
Poor air pressure. If you notice you have poor air pressure coming from the registers (the areas where treated air comes into your home) or you have areas throughout your home where it is often very hot during the summer months, that's an indication of a problem within the ducts.
High utility bills. Sometimes, high energy bills could indicate a problem with your HVAC. Other times, the problem stems from the ductwork because it's not allowing the home to heat or cool properly due to significant leaks.
Noises. Listen for any type of rattling noise, banging sounds, or clamoring of any other type. This can be due to damage to the ductwork itself.
Uninsulated ducts. Sometimes homes have uninsulated ductwork in areas such as the attic or basement. This can lead to inefficiencies in the way your HVAC works.
The Benefits of Having Ductwork in Good Shape
Why do you need to upgrade your ducts? Besides the noises and the frustrations with keeping your home comfortable, there are other reasons why you'll want to consider ductwork replacement.
It could save you money. By improving the energy efficiency in your home, you'll see your utility bills fall, and that means spending less while still enjoying comfort in your home.
New ductwork can provide more consistency in your home's environment. That means fewer areas of hotspots or cold spots. It just feels better.
Your home will have a better value. Ductwork can be a big part of having a home that's valuable. New ductwork could add value to your older home, which is a good thing if you plan to sell your home in the coming months.
Get rid of the strange sounds coming from your ductwork. Installing new ducts can even help you do your part to reduce your carbon footprint, thanks to the more efficient energy usage in your home. If you believe your ducts are concerning, it may be time to check out the options from your HVAC professionals. 
Contact AW Heating & Cooling, Your Comfort Specialists, today for your HVAC needs!