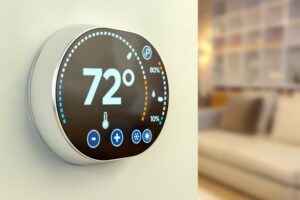 Although they are often considered an afterthought, thermostats are actually an essential part of any functional HVAC system. Nevertheless, since most people hardly pay attention to them, they may also not be aware of the fact that they come in many forms. For instance, smart thermostats are one of the latest breakthroughs in the HVAC sector. With that in mind, here is an overview of the benefits of installing a smart thermostat in your home. 
What are Smart Thermostats?
For those who are yet unfamiliar, smart thermostats are wi-fi-enabled devices that allow users to adjust heating and cooling temperature settings in their home automatically and remotely. This makes for optimal performance of the HVAC system without wasting unnecessary time and energy. 
Smart Thermostat Benefits
If you are considering investing in a smart thermostat, here are some of the benefits of doing so:
Convenience: One of the top benefits of investing in a smart thermostat is that they're highly convenient. This is because smart thermostats are easy to program and customize your temperatures throughout the day and night. In addition, they make it possible to automatically change your temperature on days, nights, weekends, etc.
Save Money: Moreover, smart thermostats can also help you save money. Given that smart thermostats have access to large amounts of data, this makes it possible for these thermostats to reduce your energy use while also optimizing your level of comfort.
Detailed Reports: Smart thermostats also provide homes with detailed reports. These reports provide insights into the condition of your home and how much energy is being used. Over time, they make it possible for you to optimize your level of comfort while minimizing the amount of power used.
Wi-fi Capabilities: Lastly, smart thermostats also have wi-fi capabilities. This makes it possible to access these controls from remote locations. This makes it possible to check on the condition of your home and make adjustments as needed.
Ready to Install a Smart Thermostat in Your Home?
Now that you know more about smart thermostats, you may be ready to install one in your home. However, keep in mind that this is a job best left up to the professionals. Although it may seem like an easy task, smart thermostats must be installed in such a way that ensures they are in sync with the entire HVAC system. Otherwise, you will likely suffer from various malfunctions and other hiccups.
Overall, if you are prepared to install a smart thermostat, make sure it is installed by a professional. For instance, if you're in the Ohio area, taking the time to search for AC service in Maumee OH, will provide you with lots of options. Either way, make sure that you are working with a reputable company that stands behind their work, offers reasonable prices, and experienced maintenance specialists. This is the only way to guarantee that the thermostat is installed correctly and will remain fully functional over time. Contact us today for more information. 
For professional air conditioning services and more, contact AW Heating & Cooling: Your Comfort Specialists!