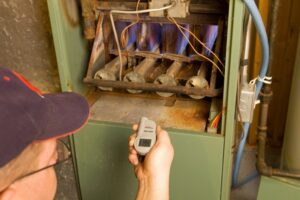 You've looked up information about your furnace before. You always see the same lifespan every time you look it up, but did you know your furnace has the chance to last for longer than average? It's difficult to know when to replace your furnace, but it could be later than you originally believed. Let's talk about why, and whether or not you need furnace replacement in Sylvania, OH.
Your Furnace Lifespan Depends on Maintenance History
First thing's first: you need to find out how long your specific furnace has left. While this is difficult to do, maintenance history is the first indicator to turn to.
A spotty maintenance history leads to the probability of a shorter lifespan. If you moved into your home and the furnace was already installed, you should have maintenance records. If those aren't accessible (or don't exist), it's reasonable to assume that maintenance visits were few and far between.
Each component of your furnace has its own tolerance to wear and tear. Maintenance reduces wear and tear by as much as possible, so your furnace should last longer as a result.
Let's Get Something Straight About Furnace Lifespans
Furnaces don't last forever, but they can last for longer than people think. Maintenance, timely repairs, and due diligence can extend the life of your furnace and prolong costly replacements. Why install a new unit when your current one will do?
Your furnace outlives its usefulness when repairs aim to cost you 50% or more of the price of a complete replacement. But the time that it takes to get to this point isn't linear; it's dependent upon maintenance and care.
Furnaces can outlive the average 10-15 year lifespan that many sources cite. A quality furnace can last for 20 years or longer, but that 10-15 year lifespan is an average. The average furnace owner may not have the same level of care and dedication to taking care of their furnace as you do, and that's why we end up with those statistics.
So When Do You Replace Your Furnace?
Inspect your furnace to the best of your ability and find out if it already has one foot in the grave. Signs of a failing furnace include, but are not limited to:
Constant short cycling
Incremental but steady increases to your heating bill
Excessively loud operation
Your house isn't warming up enough
Your house heats up, but it's uneven and unpredictable
Get a professional to inspect your furnace and weigh in on whether or not your furnace is currently facing its end, or if it still has mileage left. If you aren't sure, we're ready to help you.
Is it Time to Replace That Furnace?
If your maintenance history is incomplete and your furnace is showing signs of going out, it's time for a replacement (and an upgrade from your old system). If you don't know where to start, let us help you figure out what size and type of furnace you need to make your home energy efficient and comfortable at the same time.
For professional furnace installation and more, contact AW Heating & Cooling: Your Comfort Specialists!