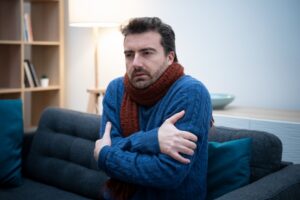 Whether you're using a gas furnace, electric heat pump, or some other type of central heating system, your heater is a complex piece of machinery. When caring for an appliance as important as this you are going to need one thing—professional help. Trained and experienced HVAC technicians, such as the folks on our team, will help ensure that your heating system runs as efficiently and effectively as possible, for as long as possible. We do this through professional and accurate installation, reliable repairs, and diligent maintenance.
Still though, even with all this, repair needs do crop up. No heating system is indestructible!
If you have a central heating system, but especially if you're using a furnace, then this blog post is for you. Below, we have uncovered some signs that your furnace is suffering. These problems are relatively common—enough so that they're what we get called for the most—so we can tell you what's probably going on, and you can count on us to fix it. Read on!
Looking for Signs of Furnace Trouble
A struggling furnace does not always show obvious signs of those struggles. We want to stress that it's a good idea to have a professional technician take a look at your furnace each year. Professional maintenance tune-ups allow us to thoroughly inspect, clean, and adjust the system to ensure great, reliable performance. It also allows us to catch the following repair needs before they turn into operational emergencies.
Sign #1: Unpleasant Smells
Did you know that it's normal to detect unpleasant odors right when you turn your furnace on for the first time each heating season? Dust has to burn off the coils and other components as the furnace cycles on, so you may smell this.
However, if this smell persists for more than a few days, or if it's strong and acrid, it's time to shut off your furnace and give us a call. You might be dealing with a potentially hazardous electrical problem and it's best for your safety and comfort that you reach out to a pro.
Sign #2: Pilot Light Problem
The pilot light is essential to the function of a gas-powered furnace. It is also an easy place to detect if there is a problem with the furnace. For example, a pilot light that is yellow or orange means the system is suffering from a lack of oxygen, which can signal a problem with the exhaust. Contact our professionals if you suspect you have a pilot light problem!
Sign #3: No Heat
This is a major one—after all, the whole reason you even have a furnace is so that it will provide your home with heat. No matter what the temperature is outside, if you find that your home is chillier than it should be and your furnace just doesn't seem to be keeping up, there may be a problem with the system internally. Alternatively, you might have a problem with the ductwork or the thermostat. The only way to know for sure is to give our pros a call!
For expert heater service in Holland, OH reach out to "Your Comfort Specialists" here at AW Heating & Cooling.