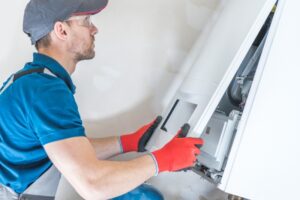 If you've come across this blog post, then there's a good chance that you are on the lookout for a new furnace. We hope that this isn't because your current system just broke down and you need reliable heat now. Either way, however, it's important that you not rush into an HVAC purchase or installation.
Doing so can leave you with a heating system that isn't properly matched for your home, and as a result, doesn't perform as efficiently as it should be able to.
So, it's important to work with a pro and make sure you get all the information you need before you schedule your furnace installation. For instance, what's the difference between a gas or electric furnace? Is one better than the other? Read on to find out!
Gas Furnaces
Let's start with gas furnaces. These tend to be what's most commonly used in homes nowadays, particularly because of how powerful and efficient they are. The lifespan of a gas-powered system is about 10-15 years, as long as the system gets routine professional maintenance and prompt repairs.
If your home already has access to the municipal gas line, and especially if you already have gas-powered appliances hooked up in your home, then the installation of a gas furnace is relatively simple for our team. Of course, these systems are large and complex, and dealing with gas can be dangerous, so this doesn't mean you should try to install one on your own!
Cost is another factor in determining if a gas furnace or electric-powered system is "better." Generally speaking, the initial cost of installing a natural gas furnace will be higher than an electric furnace. However, natural gas is a more affordable fuel source than electricity, and this makes it more affordable to operate from month-to-month.
Lastly, there's maintenance and safety to consider. Gas furnaces certainly are not inherently dangerous. However, they can become so if they're not properly maintained. Like all heaters, they're subject to wear and tear, and for a gas furnace, this can mean frayed gas lines or cracked heat exchangers–which do have the potential to leak combustion gases into your home. Again though, annual maintenance will make your gas furnace as safe as possible, for the years to come.
Electric Furnaces
After reading above, you may have already decided a gas furnace is best for you. But there are some factors that could make an electric furnace the right choice! First off, they may last longer, succumbing to wear and tear later than a gas furnace does. Secondly, since no venting is required for an electric furnace like it is with a gas furnace, the installation of this system is typically faster, easier, and cheaper than installing a gas-powered system.
Lastly, if you do not have easy access to a municipal gas line or don't already have gas-powered appliances, you may choose to forgo the complications involved with installing a new gas furnace and choose to go electric instead.
For professional furnace Installation Near Sylvania, OH, contact AW Heating & Cooling today!